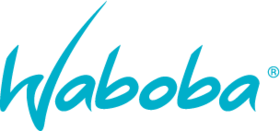 Outdoor fun starts here! Waboba is your BFF for toys & sporting goods that turn any place into a playground. Vacations. Weekends. Whenever. Wherever. From the water to the street, we have your play day covered.
Waboba began in Sweden in 2005 with the invention of the original "ball that bounces on water." To this day, we have been committed to creating unique, fun products that change the way you play. We are proud to bring people (and dogs) of all ages together to unplug and play outside until the sun goes down.
Grew up skipping rocks? Try any of the Waboba water bouncing balls instead - they are much safer to catch and they don't sink. Beach paddle? Try VOLI. Hacky sack? Give the Flyer a kick. Flying Discs? Wait until you throw a Wingman. Cricket/baseball? Try Cracket. Wall ball? Ain't nothing without a Street ball. High bouncing balls? LOL There's no such thing until you've bounced a Moon ball, silly. We could go on, or you could grab a Waboba and see what the fun's all about!
Intersocks Group is the official distributor of WABOBA in Croatia, Bosnia & Herzegovina, Serbia, Montenegro, Kosovo, Albania, Macedonia, Bulgaria, Romania, Moldova, Poland, Belarus, Ukraine ,Czech Republic and Slovakia.